Facebook Pixel + GDPR = ?
Advertising on Facebook using the Facebook Pixel generates one of the best and most relevant forms of advertising. However, the Facebook Pixel and GDPR have made it more difficult for many advertisers who expect to be able to optimize in the same way as before in Facebook Business Manager.
Facebook announced early on that advertising on the platform could continue as before but emphasized that the advertising company is fully responsible for complying with all data protection laws in the regions where they advertise. In hindsight, we believe that Facebook has adapted to the new rules, but at the same time, there has been a deterioration in reporting capabilities on both Facebook's and Google's platforms.
It is important to note that companies must take responsibility for ensuring compliance with data protection laws when advertising on social media and cannot rely solely on platform reporting tools. Companies must clearly understand data protection legislation and implement appropriate measures to protect user data. If using an agency such as Semantiko to handle personal data, a data processing agreement must be established according to GDPR. You can read more about data processing agreements here.
What is a Facebook Pixel?
A Facebook Pixel is a small piece of code used by advertisers to communicate more relevant information to their potential customers.
By adding this unique code to your business website, obtained via Facebook's Business Manager tool, you can communicate encrypted information to Facebook about the digital traces left on your website (e.g. IP addresses). Facebook then matches this information with data voluntarily shared by users on Facebook.
The purpose of this is to identify anonymous visitors to your website. They can then be added to a custom audience that you can use to target your ads. It is important to note that Facebook does not reveal who has visited your website, how many visitors have been identified, or any demographic information about them.
By using a Facebook Pixel, you can gather valuable information about your website visitors and use it to create more effective ads. This can help you increase conversions and improve your marketing.
Does a Facebook Pixel identify all users or only logged-in individuals?
The Facebook Pixel identifies users who have logged into their Facebook account via mobile phones, computers or other devices. Unlike Google's tracking tool, which uses cookies stored in the browser, Facebook instead uses information about logged-in Facebook users.
The advantage of advertising on Facebook compared to advertising via Google.
For example, A user visits your website four times and looks at the same product. 2 visits from their iPad at home, 1 visit from their work computer and another visit from their mobile. Google tracking via cookies: Google identifies three different visitors. Since you specified that you only want to retarget individuals who have visited the website at least 3 times, as they are considered the most likely to make a purchase, this user will not be included for retargeting.
Through Facebook's tracking via the pixel, the different devices the user is logged in on are registered, meaning that these devices are linked to the same individual on Facebook. With the registration of over 2 billion users in 2018, the number of registered devices was more than doubled. This benefits advertisers by better understanding a potential customer's behaviour before conversion and how they can influence it. A Facebook Pixel identifies, encrypts and sends the following data to Facebook.
HTTP headers refer to everything that is found in the upper part of the code on a website. In this "header," one can identify the unique IP address that the individual is browsing from, which web browser they are using, where the individual is located, where the visitor came from, and who the visitor is on the website.
Pixel information identifies the Pixel ID and Facebook's cookie.
Click information shows where the visitor clicked on the page.
Optional data values can also be identified, such as conversion value, page type, etc., if activated.
Form field names, such as 'email', 'address', and 'quantity', are essential for e-commerce. By default, the Pixel does not save the content of the form. However, this can be activated via Facebook Business Manager.
What is the GDPR?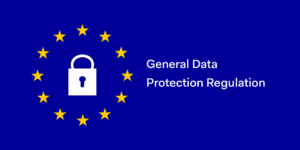 – The General Data Protection Regulation (GDPR) (EU) 2016/679 is a European data protection law designed to protect the privacy of EU citizens online by making it harder to collect personal data and build databases of information about individuals to influence them for example, marketing. The law came into effect on May 25, 2018, and includes strict fines for companies that do not comply, with penalties of up to 4% of gross revenue or £200 million, whichever is higher.
Companies must communicate clearly and transparently to individuals that any data they provide will be stored and potentially used for marketing purposes for a specified period. Failure to comply with this regulation can result in strict fines. Fines can be up to 4% of gross revenue or £200 mhttps://developers.facebook.com/docs/facebook-pixel/events-advanced-use-cases/v3.0illion, whichever is higher.
GDPR requires advertisers to obtain consent for tracking through Facebook pixel
Under GDPR, advertisers must obtain users' consent before tracking them using the Facebook Pixel. This means that the user must approve the collection and use of their data for marketing purposes before the Facebook Pixel can be used for tracking. GDPR has been introduced to protect users' personal data and give them greater control over how their data is used.
Consent must be given in a clear and unambiguous manner under GDPR. The user must be informed about what the support entails and what will be tracked with the Facebook Pixel. Consent must be specific, informed and freely given, which means that the user should be able to choose to give support or not without coercion or force. In addition, the user must be able to easily withdraw their consent at any time. This is important to protect users' rights and ensure that they have control over their data.
Measures for consent with Facebook Pixel & GDPR
To request consent in a smooth manner, the following measures can be taken:
Clearly inform the user about what the consent entails and what will be tracked using the Facebook Pixel.
Use simple and understandable language and avoid legal jargon or lengthy descriptions.
Ensure that the consent form is easily accessible and not hidden among other information on the website.
Do not use pre-selected consent settings, but let the user choose whether to give consent or not.
Ensure that the user can easily withdraw their consent at any time.
To facilitate the consent process, you can use a popup that explains the consent and gives the user the option to choose yes or no.
Be transparent and honest with users about how you will use their data and ensure that you follow all GDPR regulations and guidelines for data protection.
Facebook for Developers has developed a feature through its API that pauses the Facebook Pixel until the individual has accepted the Cookie Policy on the website. It is sufficient for the individual to click on a button that communicates "I accept" if the environment around the button clearly communicates how information is collected and what it will be used for.
According to Facebook's press release, this is part of their new privacy compliance and protections for GDPR.